Robindranath Moulik
Biography
I am not a professional writer but I like writing articles on various topics. I write from my soul. This is the reason that critics don't hurt me, because it is me. If it was not me, if I was pretending to be someone else, then this could unbalance my world, but I know who I am.

As I have traveled through the World one of the most interesting things for me has been meeting people in all the countries I've visited. From my life experiences I got so many stories to write.

Though my own life is filled with activity, letters encourage momentary escape into others lives and I come back to my own with greater contentment. I enjoy the feedback I get on my articles from my readers.
Where to find Robindranath Moulik online
Books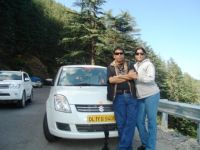 A journey to "The Himalayan Himachal, in India"
Robin Moulik recounts a unique experience on a summer vacation in the incredible regions of The Himalayan Himachal, all the way from Pune in India.