Roari Benjamin
Biography
Roari Benjamin is the author of THE SHADOW WATCHER, and is currently editing the next installment, A SHADOW IN DOUBT. The daughter of a librarian, Roari was reading Dr. Seuss by four, and fell in love with Star Wars around the same time. As a result, she grew up a fan of many things sci-fi and fantasy related. Roari lives in Southern California with the love of her life, their two children, Artemis (see pic), two dogs, two kittens(quickly becoming cats), and a turtle. During the day, she keeps busy being mom, but at night she writes.
Where to find Roari Benjamin online
Books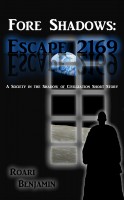 Fore Shadows: Escape 2169 (A Society in the Shadow of Civilization Short Story)
Once he saved the Colony's population from a deadly virus, Dr. Samuel Marks knew the U.C.E. - United Continents of Earth - would find out he helped his friends accomplish their mission. But his tree was their only hope for survival; he had no other choice. Samuel did what had to be done, and now the only option he has left is to Escape 2169.
Roari Benjamin's tag cloud