Robert B Lowe
Biography
I'm a life-long fan of mystery novels from the Hardy Boys through LeCarre, MacDonald, Grisham, Hiaasen, Childs and many others. I was a newspaper reporter for 12 years for publications in Arizona and Florida. Along the way, I won a Pulitzer Prize for investigative reporting. I switched careers, attended Harvard Law School and practiced law in California's Silicon Valley for five years before becoming a software entrepreneur. More recently, I've co-founded two high-tech startups and worked in various capacities for other technology companies. I borrowed from a multitude of job experiences in writing Project Moses. And, as all writers do, I tried to emulate the best from my favorite authors. This is my first novel and I'm working on a second using some of the same characters.
Books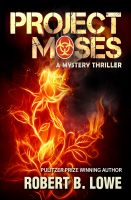 Project Moses - An Enzo Lee Mystery Thriller
by

Robert B Lowe
(4.11)
"A taut thriller...with an ideal fusion of wile and wit." - Kirkus Review. By a Pulitzer Prize-winning author. A secret biological warfare program has run amok. Reporter Enzo Lee and lovely lawyer Sarah Armstrong must unmask the government agents and high-tech titans responsible. But,the pair are on the hit list, too, and the body count is growing. Can they terminate the program in time?
Robert B Lowe's tag cloud