Rose Godfrey
Biography
Rose Godfrey and her husband Brian have been homeschooling since 1999 as their family has grown to include 11 great kids. Using her background as a speech-language pathologist, Rose draws upon everyday life to find teachable moments as they come. Her column, Learning at Home, appears in the Appeal-Democrat and is part slice-of-life, part homeschool news.

Rose's days are full of sticky hugs, sloppy kisses, wrestling matches, prayer and other assorted motherly tasks, all of which bring more satisfaction than she ever imagined. If she had any free time, she'd probably take a nap.
Where to find Rose Godfrey online
Books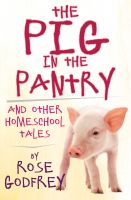 The Pig in the Pantry and Other Homeschool Tales
(5.00)
Rose Godfrey weaves together entertaining tales of homeschool life in this collection of essays adapted from her column, "Learning at Home." From raising baby chicks in the kitchen to driving cross country with a van full of children to inviting friends over for Science Daze, the Godfreys have tried about everything and lived to tell the tale.