Rose Garcia
Biography
Rose Garcia is a lawyer turned writer who's always been fascinated by science fiction and fantasy. From a very young age, she often had her nose buried in books about other-worlds, fantastical creatures, and life and death situations. More recently she's been intrigued by a blend of science fiction and reality, and the idea that some supernatural events are, indeed, very real. Fueled by her imagination, she created The Transhuman Chronicles—a series of books about people who have overcome human limitations. Rose lives in Houston with her husband and two kids. You can visit Rose at www.rosegarciabooks.com.
Where to find Rose Garcia online
Videos
Final Life Book Trailer
Official book trailer for Final Life, a YA Supernatural Thriller/Paranormal Romance
Books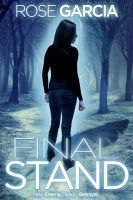 Final Stand: Book Two in the Transhuman Chronicles
Dominique is still alive after killing Tavion, the Tainted who's hunted her for lifetimes. Yet her protectors still fear for her life. They force her to flee Houston and abandon the friends she loves. But they can't protect her from herself. When Dominique starts hearing Tavion's voice in her head, she realizes that her quest for survival is far from over.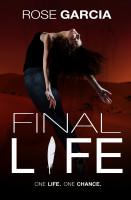 Final Life: Book One in the Transhuman Chronicles
(5.00)
For Dominique Wells, nothing sucks more than being forced to move cross country during senior year. She thinks things can't get any worse until her new neighbor pressures her into playing a psychic card game. When she touches the cards, she has a vision of a red desert where an evil presence hints at past lives and threatens to kill her. She must solve the mystery of her past if she's to survive.
Rose Garcia's tag cloud