Ruby-Slippered Sisterhood
Biography
The Rub-Slippered Sisterhood formed on March 25, 2009, the day that the 2009 Golden Heart nominations were announced. The Golden Heart is the hihest honor in romance writing for unpublished manuscripts, and is presented by Romance Writers of America.

The Ruby-Slippered Sisterhood blog is here to document our journey and hopefully provide entertainment, inspiration, and encouragement along the way. We hope you enjoy our journey as it continues. Some of our sisters have sold, many have signed with agents, and some have even hit publishing highest honors such as the NY Times Bestsellers list and the RITA Award. But every one of us has been inspired to continue pursuing our dreams, whatever they may be.
Where to find Ruby-Slippered Sisterhood online
Books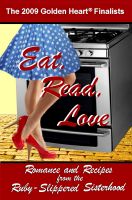 Eat, Read, Love: Romance & Recipes from the Ruby-Slippered Sisterhood
They say the way to a man's heart is through his stomach. If so, then you'll need a copy of EAT, READ, LOVE! This unique literary cookbook pairs recipes with excerpts from the romance novels that inspired them. Join the members of the Ruby-Slippered Sisterhood for some "romancing the stove," and delight in romance and recipes from some of today's hottest rising stars.