Ryan Harvey
Biography
Ryan Harvey has lived most of his life in Los Angeles. He did a stint in Minnesota at Carleton College, where he earned a degree in History. He has worked as a story editor, speed-reading instructor, and copyeditor—all in the service of writing novel after novel in the genres of science fiction, fantasy, and especially the shadowy zone between.



Ryan won the Writers of the Future Contest in 2011 for his story "An Acolyte of Black Spires," which is part of his science-fantasy series set in the continent of Ahn-Tarqa and appears in Writers of the Future Vol. XXVII. His work has also appeared in Black Gate, Every Day Fiction, and the anthology Candle in the Attic Window. He pens nonfiction at a weekly column for the Black Gate website where he has worked for over three years. If he's not writing, reading, or watching movies, he's out swing dancing in vintage clothing. 



He promises to love giant monsters forever.
Where to find Ryan Harvey online
Books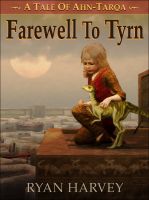 Farewell to Tyrn
Twelve-year-old Belde thought nothing terrifying could happen during the Month of the Sun. Then the cruel wizards known as "The Shapers" knock on her father's door. Belde plunges into a nightmare that carries her and her dinosaur pet Rint across the city, fleeing the Shapers' agents, and into the shocking truth about her life. A new science-fantasy novelette in the land of Ahn-Tarqa.