Stephanie C. Fox, J.D.
Biography
Stephanie C. Fox, J.D. is a historian, writer, and editor. She is a graduate of William Smith College and the University of Connecticut School of Law, and she lives in Connecticut. Ms. Fox has written several books on a variety of topics, including the effects of human overpopulation on the environment, Asperger's condition, and travel to Kuwait. She runs an editing service called QueenBeeEdit, which caters to politicians, scientists, and others. Her areas of interest include – but are not limited to – women's history, biographies, women's studies, science fiction, environmental studies and environmental law, international relations, Asperger's condition, and cats. She is currently at work on co-authoring the political memoir of an Iranian woman Reformist politician.
Books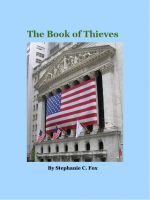 The Book of Thieves - Stephanie C. Fox, J.D.
By
Stephanie C. Fox, J.D.
Price:
$4.99 USD.
Words: 14,780. Language: English. Published: March 13, 2012. Category: Nonfiction
The Book of Thieves is the story of how a greedy few destroyed a nation called Oblivion. Oblivion was once a great place to live and work in, with excellent laws to protect everyone who worked there, and to keep conditions fair for them. Not anymore. A greedy few called Gangsters cheated and stole after working harder at getting the rules changed and finding ways to simply ignore them.
Stephanie C. Fox, J.D.'s tag cloud