Sheila Deeth
Biography
Refracted is Sheila Deeth's first professionally published book. Her short stories, book reviews and articles have appeared, or will appear, in VoiceCatcher 4, Mythica Publishing's Maybe Tomorrow anthology, Second Wind Publishing's Murder in the Wind, and Poetic Monthly Magazine. Her self-published books are available from Amazon and Lulu, and her work has been published online in Nights and Weekends, Poetic Monthly, the Shine Journal, and Joyful Online.

Sheila describes herself as an English American, a Catholic Protestant, a mathematician who can't add up and a writer who can't spell. She grew up in the UK and has a Bachelors and Masters in mathematics from Cambridge University, England. Now living in the States with her husband and sons, she enjoys reading, writing, drawing, telling stories and meeting her neighbors' dogs on the green.
Where to find Sheila Deeth online
Books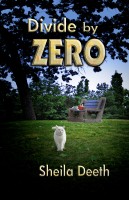 Divide by Zero
It takes a subdivision to raise a child, and a wealth of threads to weave a tapestry, until one breaks. Troy, the garage mechanic's son, loves Lydia, the rich man's daughter. Amethyst has a remarkable cat and Andrea a curious accent. Old Abigail knows more than anyone else but doesn't speak. And in Paradise Park a middle-aged man keeps watch while autistic Amelia keeps getting lost.