Sally Kuntz
Biography
Sally Kuntz lives in rural central Virginia with a husband and a pair of sighthounds. What leisure time she has from carpentry on the interior finish of the house is spent with the Society for Creative Anachronism where she is reproducing jewelry from the Birka finds in Gotland, and of course, writing.

Recent published stories: one in Warrior Wisewoman, one in Bards and Sages magazine, January of 2009, and another in January 2010.
Books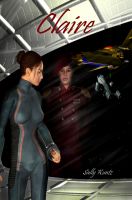 Claire
by

Sally Kuntz
It was an open and shut case of someone's reckless actions that had killed his sister. Mark knows that, and he is going to expose the group responsible for the wild, headlong, daredevils they are. But Mark has a lot to learn; about the killer and about himself.
Sally Kuntz's tag cloud