Sally J Carpenter
Biography
Sally J. Carpenter is a novelist for teens, adults and writer of children's stories. She enjoys taking on political causes and occasionally, will fire off commentaries and letters to the editors of local news papers.

Born in 1948 and raised in Coeur d' Alene Idaho she grew up enjoying swimming in the summer and ice skating in the winter. Today she lives in Boise, Idaho with her husband Jerry, mother-in-law who will soon celebrate her 102 birthday, Jazz the parakeet and the dog, Opie. They have seven grown children, Nino, Rondi, Jeff, Dan, Russ, Ginger and Kathy. She feels blessed to have 21 grandchildren and so far four great-grandchildren.

She has worked since she was fifeen and jokes about all the different jobs she has held over the years. "I was a Realtor, a CNA, a bookkeper, currently hold my credentials as a Certified Dietary Manager and am an Author. Sounds a little like the Butcher, the Baker and Candle stick maker but I was never a Butcher only a Meat Wrapper in a small grocery store, when needed." Her other interests include music, beading, ceramics, cake decorating and cooking. Her love for writing began while still in grade school and has grown stronger every year. She admits that it is like the air to her. "I have to write or I couldn't live."

Currently Sally is providing care for her mother-in-law and working hard on her next novel.
Books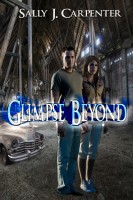 Glimpse Beyond
by

Sally J Carpenter
One must ask is it fate or karma that presents life's twists and turns. With every decision we make and with each choice, we harvest the consequences of our thoughts, words and actions, good or bad.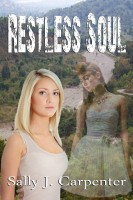 Restless Soul
by

Sally J Carpenter
Fifteen year old Jessica Emerson is excited about the family vacation. Whether she knew it or not, Jessica was about to embark on a journey that would change her life forever.
Sally J Carpenter's tag cloud