Samantha Angelillo
Biography
My name is Samantha Angelillo. I am twelve years old and I live in Montreal North. I go to Gerald McShane School. My teachers are Mme Paquin and Miss Sabrina. I am in class 6B. In my family, there are six people. There is my sister, my two brothers and my parents. The things that I like are: the arts, music and I love dancing!
Where to buy in print
Books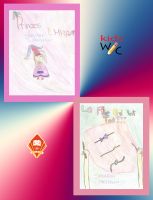 Princess Emma & La Fille Qui Veut Tout!!!
A new category of books launched by the 99 Series, LLC; children stories written by children. Kids books by kids, captures the heart and the imagination of a child. Through these books and the KWC™ literacy, anti-bullying, and other issues that affect our youth are told in their own words.
Samantha Angelillo's tag cloud