Samantha Rider
Biography
Readers of erotica are always startled to discover that the sleek and sophisticated Samantha Rider is the author of such earthy and sex-charged stories as "One Night Stand," but they definitely like what they read. "Myself, I love raunch and romance in equal parts," Rider confesses with a sly smile. "They are both a total turn-on to me."

Born to well-to-do parents in the posh enclave of San Marino, CA., Rider was raised in the best of schools in Switzerland and France. The bachelorette has also lived and worked in such glamor capitals of the world as Manhattan, London and Paris.

"I love chic boutiques and trendy boites, but I also adore honky-tonk saloons, for instance," admits Rider. "That's what enables me to write stories about such down-to-earth characters as Jacey Radison, my sexually-liberated heroine in 'One Night Stand.' This girl has lived!" adds the author with a decidedly wicked laugh.

In fact, Rider's short story, "One Night Stand," her exciting debut under the Smashwords ebook imprint, is based on a true incident. "It happened to a very dear friend of mine," the author explains, "and I was there to witness that electrifying first meeting between the two lead characters."

Rider's follow-up for Smashwords is a full-length novel of erotic suspense called "The Edge of Desire," depicting the further sensual adventures of Jacey Radison. It is also based on true incidents. "'One Night Stand' was a lust story, pure and simple, not a love story," Rider further explains. "This novel is about love as well as lust. Featuring a very strong male lead, a very sexy guy, who keeps Jacey going around in circles and then some. It really is hot stuff!"

Next up in Rider's series of Jacey Radison erotic suspense novels is "Run Naked Through the Streets." Jacey's wild younger sister, Laurel, is kidnapped by a madman, and Jacey must search some of the darkest (and kinkiest) streets of Los Angeles in her attempts to rescue the girl from certain death.

When she's not steaming up the screen of her computer with those sexy stories she writes, Samantha Rider dabbles in interior decoration and the arts, painting water colors and creating erotic sculptures. And, believe it or not, she loves yard sales.
Books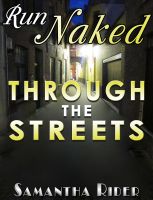 Run Naked Through the Streets
When her sexy younger sister vanishes, Jacey Radison, the hot-to-trot heroine of "The Edge of Desire," traverses the dark and dirty streets of Los Angeles to find her. En route, Jacey encounters murder, pyromania, abduction and a handsome hunk with sexual identity issues. Mature Readers Only, contains graphic language and sex.
The Edge Of Desire
(5.00)
Jacey Radison, the sexy and spirited heroine of the popular sizzling-hot short story, "One Night Stand," is back in action in her first full-length novel of erotica, "The Edge of Desire." Jacey's obsession with sex clashes with her young and hunky "bad boy" lover's equally strong addiction to drugs. For Mature Readers Only, features graphic language and sexual situations.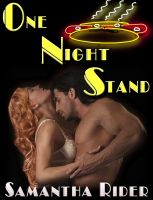 One Night Stand
When she entices a younger man back to her place, the seeds of doubt are planted in Jacey's mind that perhaps Fate has other plans for her on a hot summer's night. Will this seemingly casual one night stand turn out to be an evening of sensual delights -- or one of nerve-wracking terror? This is a short story of erotica. Warning: Graphic language and sexual situations.
Smashwords book reviews by Samantha Rider
Rock & Roll (Vol. I of the Savannah Rossi Chronicles) on Oct. 02, 2012

Hey, Deliza. You really rock!!! Savannah is a great character. You obviously know the rock music world extremely well -- it was so authentic. The sex scene with The Chosen One was incredibly hot. Hope she meets up with him again. Looking forward to joining Savannah on this oh-so-erotic journey of hers!!!

Slow Jam (Vol. 2 of the Savannah Rossi Chronicles) on Dec. 11, 2012

Oh, Deliza baby. You have written another sizzlin' and super- hot installment in the sex chronicles of Savannah Rossi. Love that Logan! He really knows how to treat a lady. Looking forward to Sav's Christmas adventure but sure hope that Drummer Boy won't be TOO "little." Ha!!!