Sandra Hutchison
Biography
Sandra Hutchison's career has shifted between teaching, writing, editing, marketing, and advertising, all of which she enjoys. She founded Sheer Hubris Press in 2013 so she could use all of the last four skills at the same time.

Born and raised in the sunny Tampa Bay area, Hutchison survived a transplant to Greenfield, Massachusetts in high school and has stayed in cooler climes ever since. She is a graduate of UMass Amherst and the University of New Hampshire and also spent a year at the University of East Anglia in England. She currently lives with her husband and son outside of Troy, New York, where she teaches writing at Hudson Valley Community College.
Where to find Sandra Hutchison online
Books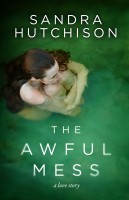 The Awful Mess: A Love Story
A lonely divorcee gets caught up in the lives of an unhappily-married Episcopal priest and a handsome town cop before a crushing job loss, a scandalous pregnancy, and a deteriorating ex threaten all she has left. In this witty, often affectionate tale of small town life, Mary discovers that the connections we make can result in terrifying risks, as well as unexpected blessings. Has adult themes.