Scott Robert Ladd
Biography
I'm a humanoid, of Northern European descent, a U.S. Citizen, a husband, a father of three wonderful daughters, and a right-wing leftist. In the context of Syraqua, I am a professional writer, having published more than a dozen books and over 200 articles — on real paper, no less! Those past works were largely focused on software engineering -- now, science fiction and fantasy are my focus.

Update: In January 2013, an accident resulted in the paralysis of my right side. I'm recover faster than average, and have done substantial work on three sequels. Thank you for your kind support.
Where to find Scott Robert Ladd online
Books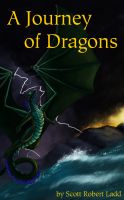 A Journey of Dragons, 2nd Edition
A remote island nation perishes in fire and storm, leaving a few survivors lost on the shores of a strange land. One man is snatched from the jaws of death by an angry and curious dragon; he finds unexpected new friends. The people from his homeland are scattered, confused, and far from united. And when faced with destruction, they can only be saved by a dragon who must forgive an ancient wrong.