Joe Becker
Biography
Joe Becker is a award-winning, freelance photographer and author living in Tacoma, Washington. His photography has been published by National Geographic, Northwest Travel Magazine, EOS Magazine, Wild West Magazine, and others. His photographic skills are largely self taught; his formal education is in geology. Though Joe's portfolio contains images from around the world, he holds a special love for both his home region, the Pacific Northwest, and the American southwest; naming my company, Seldom Seen Photography, after a fictional character from southern Utah. In addition to writing about photography, Joe leads individualized photo workshops. Contact him through his website, www.seldomseenphoto.com, for more information.
Where to find Joe Becker online
Books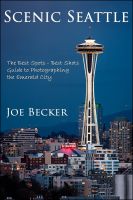 Scenic Seattle, The Best Spots - Best Shots Guide to Photographing the Emerald City
Scenic Seattle is a photographic guidebook designed to help photographers and others easily find all the special Seattle views. The book contains descriptions and directions to over 80 places to photograph in the city with specific advice on how to capture the best shots. Areas covered include Pike Place Market, Seattle Center, the waterfront, Chinatown, West Seattle, and many more.
Joe Becker's tag cloud