Don Maue
Biography
Don Maue is native of Hamburg, New York. He served just over nine years in the United States Marines before settling in Wisconsin, where he currently lives with his wife and two children. Don is an avid collector and customizer of G.I. Joe and Star Wars toys.
Where to find Don Maue online
Books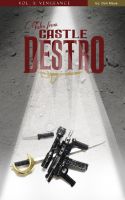 Tales from Castle Destro Volume III - Vengeance
Laird James McCullen Destro XXIII and his Iron Grenadiers return once again to do battle with Iron Klaw and his Soldiers of Khaos, Anarchy and Ruin (SKAR). Can they defeat their enemies and bring an end to this bloody war?