Shannon A. Thompson
Biography
Shannon has been a writer for as long as she can remember. Her mother encouraged her to write away her nightmares and to capture her hopes and dreams on paper. Although she passed away when Shannon was only eleven, Shannon still writes for her. Her mother's inspiring words to "write for yourself and edit for your reader" are always with her.

With her father and brother's continued support, Shannon published her first book, November Snow, when she was only sixteen. Minutes Before Sunset, is her second, and she has written eight books in all. They are in various stages of preparing for publication.

She speaks Italian and is soon to graduate with a B.A. in English from the University of Kansas. She also has a growing list of fans who follow her insightful blogs at ShannonAThompson.com.

Other Books from Shannon:
SECONDS BEFORE SUNRISE, Book 2 in the Timely Death series (Fall of 2013)
In this second book of the Timely Death series, Eric is forced to face his destiny without Jessica by his side. But Jessica's new nightmares could be the key to Eric's survival.

DEATH BEFORE A NEW DAY, Book 3 in the Timely Death series (Spring, 2014)
The masterful ending to the Time Death series, Death Before a New Day brings dramatic closure to the centuries-old conflict between the Dark and the Light.

NOVEMBER SNOW
Shannon's first book, November Snow takes readers eighty years into the paranormal future to follow the struggle of a different kind of human for survival in a dangerous and unfriendly world. This book is available online at: http://amzn.to/13zh68m
Where to find Shannon A. Thompson online
Books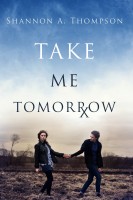 Take Me Tomorrow
Two years after the massacre, the State enforces stricter rules and harsher punishments on anyone rumored to support tomo – the clairvoyant drug that caused a regional uprising. But sixteen-year-old Sophia Gray has other problems. She will have to decide whether to fight for a future she cannot see or to sacrifice her loved ones to the world of tomorrow.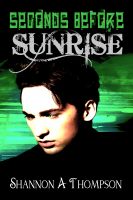 Seconds Before Sunrise
(4.50)
Book 2 of The Timely Death Trilogy. Eric has weeks before his final battle when he's in an accident. Forced to face his human side, he knows he can't survive if he fights alone. Jessica's desire to find her parents is gone and so is her memory and confidence. But when fate leaves nightmares behind, she decides to find the boy she sees in them, even if it risks her sanity.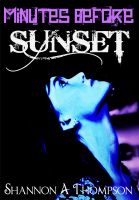 Minutes Before Sunset
(4.50)
AWARD WINNING NOVEL! Minutes Before Sunset was voted goodreads.com Book Of The Month for July 2013! Eric has a life-or-death confrontation planned and waiting for him on his 18th birthday. Jessica just wants to find out who, or what, her parents were. Neither of them is ready for the answers they'll find. Minutes Before Sunset is Book 1 of the Timely Death Series