Sherry Gloag
Biography
Sherry Gloag is a transplanted Scot now living in the beautiful coastal countryside of Norfork, England. She considers the surrounding countryside an extension of her own garden, to which she escapes when she needs "thinking time" and solitude to work out the plots for her next novel. While out walking, she enjoys talking to her characters—as long as there are no other walkers close by.

Apart from writing, Gloag enjoys gardening, walking, and reading. She cheerfully admits her books tend to take over most of the shelf and floor space in her workroom-cum-office. She also finds crystal craft work therapeutic.
Where to find Sherry Gloag online
Books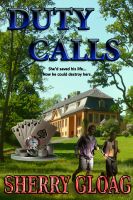 Duty Calls
Eleven years ago Rafe Hawk was almost murdered in England. Now he's back & he doesn't trust anyone, especially Trudi Delany. Why does she remind him of the woman who saved his life so long ago? Trudi can't remember when she saved the life of a stranger--the night her ten-year-old daughter was conceived, but she senses her life will soon change forever. Will Rafe destroy everything she loves?