Shoestring Ventures, LLC
Publisher info
Shoestring Ventures, LLC is an independent publisher.

We support Free Speech, the 1st Amendment, Peace, true non-denominational Spirituality, Non-Violence and Participatory Democracy.

Our writers contribute to free and open democratic dialogue and the advancement of our society and our great nation, the United States of America, in the forms of visionary fiction as a sub-genre of New Age and metaphysics (Frank Silva), satire & comedy (Dick Grizzly), and satirical social and political commentary (Orwell Kafka).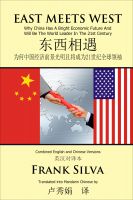 East Meets West
Combined English & Mandarin Chinese Version. China is the rising world leader. By comparing post World War II American history - when America was the world's factory - to China today, it is easy to see the path China is on. It is rapidly moving from an export and investment economy to a consumer economy - 1.4 billion strong. It is creating wealth and a middle class that no nation can compete with.
Shoestring Ventures, LLC's tag cloud