David Skelhon
Biography
David Skelhon is an accomplished photographer, writer, sailor, commercial pilot and boat builder. He was born in the UK and moved to the province of British Columbia on Canada's West Coast in 1996.
He is best known in the UK for his contributions to sailing and adventure magazines, and as the co-author of several regional guide books.
In Canada, his aerial photography has appeared in national and regional publications and exhibited in public and private art galleries. Portfolios have appeared in Photo Life and BC Magazine. For several years he worked as a freelance reporter/photographer for the Vernon Edition of The Daily Courier.
He was a flight instructor for 7 years and recently worked as a bush pilot in Northern Alberta and the Yukon.
He loves empowering others and encouraging thinking "outside the box."
Where to find David Skelhon online
Books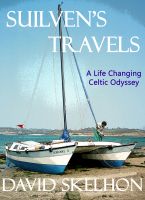 Suilven's Travels: A Life Changing Celtic Odyssey
In 1985 David Skelhon and his partner left behind promising careers and financial security to pursue their dreams and live closer to the Earth. Skelhon vividly tells a tale of high adventure, struggle and self-discovery aboard a small catamaran they built and later sailed across the rough and unforgiving coastal waters of England, Wales and Scotland during a 3 month voyage in 1990.