Sophia Baldwin
Biography
Sophia and Lewis were married for 47 years before Lewis died of pancreatic cancer. They are the parents of two sons and one daughter. They are grandparents of four grandsons and two granddaughters.
Sophia keeps busy with writing, gardening, bridge, golf, and good friends. She enjoys visiting her children and grandchildren in Silverton, Colorado, Lexington, Kentucky, and Columbus, Indiana.
Books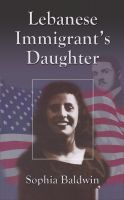 Lebanese Immigrant's Daughter
Mother was pleased with her daughter's birth. Father cried because a daughter's dowry costs money. What does a girl do when her parents plan to marry her off to a stranger in Lebanon when she turns twelve? World War II comes to her rescue until her father makes another marriage contract. A serious car accident frees the girl to attend nursing school, travel, and find her own true love.
Sophia Baldwin's tag cloud