Sophia Santoianni
Biography
My name is Sofia and I am twelve years old. I go to Gerald Mc Shane School. Je suis en 6ième année. Les noms de mes professeurs sont Mme Paquin et Miss Sabrina, en anglais. Notre école Gerald Mc Shane a fait un projet de littérature. J'ai pensé écrire «Les cheveux de Daniella» (une histoire sur une fille qui a des cheveux très bouclés), parce que quand j'avais 3 ou 4 ans, j'avais des cheveux bouclés, comme Daniella. My English story The Candy House, was inspired by my friend, because she loves candy, and so do I.
Where to find Sophia Santoianni online
Where to buy in print
Books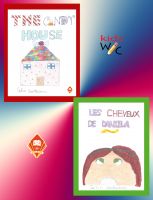 The Candy House & Les Cheveux de Daniela
A new category of books launched by the 99 Series, LLC; children stories written by children. Kids books written by kids, captures the heart and the imagination of a child. Through these books and the Kids Write Club (KWC™) literacy, anti-bullying, and social disorders that affect our youth are shared in their own words to help other children.