Spencer Carstairs
Biography
Spencer Carstairs is the pseudonym of a British Royal Insider. Publishing "Someone to Watch Over Me" on the thirtieth anniversary of the engagement of Prince Charles to the late Princess Diana, royalties will be distributed to her favorite charities including the victims of land mines in Cambodia for which she worked tirelessly with the American Red Cross.
Books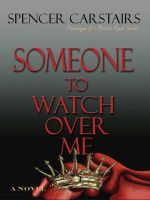 Someone to Watch Over Me
Prince Charles struggle to fight a challenge for the throne from a Stuart claimant, Count Sobieski mixes royalty with the Saudi Royal Family. Attracted by Charles wish to be defender "of faith" rather than the faith which could thus embrace Islam. Sobieski's appeal is now cynically increased by publicity where two women fight for him. Sparks fly as bizarre truths unfold.
Spencer Carstairs's tag cloud