Stan Hanna
Biography
Stan Hanna writes about what he's seen and what he's heard about among the old timers aboard ship and out west. He's fortunate to have worked for and with some of the great Navy Officers of his generation as well as national leaders in the Finance and Entertainment industry. Through it all he came to understand that, in the end, people are people, the good ones and the bad. The choices made are what mark the man and separate him from his peers. Stan was lucky to experience the kind of friendship among his shipmates which help young sailors survive and grow to become old sailors. He was lucky enough to become a sub hunter after getting commissioned. He feels his technical background in the Navy prepared him for writing the science fiction and the thrillers. His work in Wyoming and Texas prepared him for the westerns. His life in the Navy taught him how to deal with danger and how to stand up for what he believes; and his life after the Navy taught him to deal with people and to recognize a good decision making process. His wife of forty years finally got the message through to him about what true love is about. His kids taught him the value of mercy and forgiveness. His fourteen grandchildren have taught him the beauty of family and forbearance. Stan Hanna tries to put all of this in his writing so that what he writes is not fanciful, but gritty and authentic, no matter what the context, genre, or subject matter. Stan is having fun writing thrillers and westerns and science fiction. If you want to jump on board the bandwagon, send your e-mail to stan.hanna0@gmail.com. Stan truly does reads his e-mail, and promises to answer the mail that catches his eye.
Smashwords Interview
Where to find Stan Hanna online
Books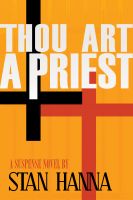 Thou Art A Priest
Ripped from the latest headlines! A hurricane of conspiracy, scandal, sex, corruption and crime on every page. THOU ART A PRIEST is a crime thriller screaming for attention on every person's E-reader. This is an indictment of every assumption Americans make about right, and good, and whom to trust. It's as real as the latest front page of every person's news source and impossible to put down.