Stephanie Stamm
Biography
Stephanie Stamm grew up in Kentucky and then moved to Chicago, where she lived for 10 years, before settling in Southwest Michigan. She holds an advanced degree in Religion & Literature, and has been a press operator, a teaching assistant, a research assistant, an English and Humanities instructor, a potter, and, for the last several years, a technical writer. She loves fantasy, reads a lot of YA, and has a thing for winged beings. Those three interests, plus that time in Chicago, all came together to form A Gift of Wings. Stephanie is currently working on the sequel, A Gift of Shadows. You can visit her and read more about the Light-Bringer Series at http://www.stephanieastamm.com.
Where to find Stephanie Stamm online
Books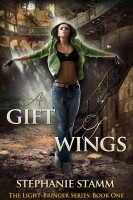 A Gift of Wings
When almost-eighteen-year-old Lucky Monroe accompanies her cousin to hear a popular Chicago band, and she sees fiery wings extending from the back of the handsome lead singer, her life is changed forever. Suddenly, she is enmeshed in a world of Fallen angels, demons, and ancient deities—a world that promises knowledge of her new powers, and a budding romance, but threatens all she holds dear.
Stephanie Stamm's tag cloud