Sue Trotter
Biography
Sue Trotter is a Stress Management and Confidence Consultant who runs Stress Management Workshops and works one-to-one with clients to reduce stress and boost their confidence in all areas of life.
An experienced trainer and coach, Sue has a Management degree, has studied nutrition and food preparation and is a qualified Homeopathic Medical Practitioner. She is a member of the Association for Coaching and is an Accredited Trainer with the Stress Management Society.
Sue is based in the Cotswolds where she lives with her husband, two sons and her dogs. In her spare time she is a Retained Fire-Fighter with Gloucestershire Fire and Rescue Service.
Sue is currently working on a series of Stress Busting titles to help take the stress out of daily life. These will be released as ebooks so keep an eye out at https://www.smashwords.com For details of up and coming titles or to be notified of new releases as they become available, you can contact the author by emailing sue at optimumbeing dot com.
Where to find Sue Trotter online
Books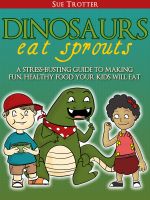 Dinosaurs Eat Sprouts, a stress-busting guide to making fun, healthy food your kids will eat
(5.00)
A simple, effective guide, packed with tips, tasty recipes and sound nutritional advice to help you make fun, healthy food your kids will want to eat. Designed to take the stress out of feeding the children, there is something for every parent from those on a budget to those catering for vegetarians or fussy eaters.