Susanna Southdown
Biography
Born in Brooklyn, New York in 1984, Susanna studied history and English literature in the United Kingdom at Leeds University, finally graduating with an honors degree in 2006.
She then returned to the USA, but left her home in New York during 2008 to move to the sunshine state of Miami, Florida, where she still lives with her two cats and a Labrador named, "Archie."
She makes her living as a freelance journalist, also writing children's fantasy and humorous stories.
Books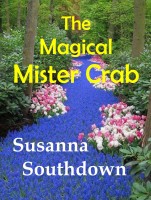 The Magical Mister Crab
Maria along with her two younger brothers, runs away from an abusive father and timid mother in search of a better life. Along the way they have some great adventures in the Enchanted Forrest, where they encounter the wicked witch, along with her two killer dogs. They later have problems with the infamous Snake family, but also meet the hero of the story, the magical Mr. Crab.
Susanna Southdown's tag cloud