Mark Andrews
Biography
Mark Andrews was a newspaper journalist most of his career, spending three years at the Key West Citizen and the next twenty-seven years at the Orlando Sentinel as a reporter and then an editor in various capacities. Since January 2010, Mark has been Editorial Director of WEALTH magazine. His only other book is Flashbacks: The Story of Central Florida's Past, a history of the metro Orlando area, which he co-authored in 1994 with newspaper colleague and fellow local-history columnist Jim Robison. Mark and his wife, Jo, live in central Florida.
Where to find Mark Andrews online
Books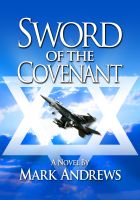 Sword of the Covenant
A powerful invasion force intends to destroy Israel. The United States says the Jewish nation must fight this battle on its own. But U.S. naval aviators on an aircraft carrier in the Persian Gulf and Air Force pilots stationed in Turkey, all Christians, are approached by high-ranking Pentagon officials with a shocking request: Lead your squadrons on illegal airstrikes that might help save Israel.
Mark Andrews's tag cloud