TW Gallier
Biography
TW Gallier was born in Beaumont, Texas, to Texan/Cajun parents. He served 7 years in an Armored Cavalry Regiment (11th ACR Blackhorse Regiment), learning no useful skills. After the Army he went back to school to study electronics, figuring that would be a profession with job security. In 2008 he was laid off. It wasn't the first time or last time he was wrong. But while in school, and holding down a full time job, he began writing in his spare time. In the mid-nineties he had his first short story sale and publication. He shares his life with his wife and their Yorkie American Princess. He writes Urban Fantasy short stories and novels.
Where to find TW Gallier online
Books
Black Heart: The Crimson Knot
Sable Hart patrols the night streets of Dallas, hunting for rogue vampires. She is the undead's self-appointed sheriff — called Black Heart in the paranormal community. When a rogue vampire goes on a killing spree and kills a woman tied to the wrong undead people, the boss of the local vampire mafia tasks her with finding him. Or he will kill her entire family.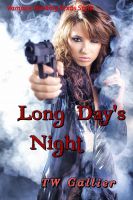 Long Day's Night
Vampire hunting, Texas Style. Old World vamps learn that Texas girls don't go down without a fight, and sometimes their bite is even worse than yours.