Tamara Gill
Biography
Tamara is an Australian author who grew up in an old mining town in country South Australia, where her love of history was founded. So much so, she made her darling husband travel to the UK for their honeymoon, where she dragged him from one historical monument and castle to another.

A mother of three, her two little gentleman's in the making, a future Lady (she hopes) and a part-time job keep her busy in the real world, but whenever she gets a moment's peace she loves to write romance novels in an array of genres, including regency, medieval and paranormal.

Tamara loves hearing from readers and writers alike. You can contact her through her website, and sign up to follow her blog or newsletter.
Where to find Tamara Gill online
Books
To Sin with Scandal
(4.00)
One night of passion, every need satisfied, nothing expected in return. All Lady Miranda has to do is keep her rendezvous a secret & her heart inured to the past. Lord Scandal only desires one woman & when the woman he thought never to see again walks into his library & expects all her desires to be sated, his resolve is tested. Can they forgive? Or are past wounds too deep to forget?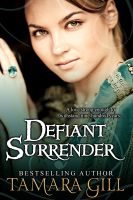 Defiant Surrender - A Medieval Time Travel Romance
Maddie St. Clair hides behind her job and mudlarking hobby, until she finds a medieval ring that throws her back to 1102 England. Forced to marry his dead enemy's daughter, Lord William hides his growing respect for his wife behind a wanton mistress. Yet when Madeline's life is threatened, William's loyalty to his kin is tested by the astonishing desire that flares between them. If fate allows...