Tannis Laidlaw
Biography
Tannis has worn many hats: occupational therapist in her early days, psychologist, university researcher at various medical schools, teacher and now author. She's written many books which are safely stored on her hard drive, but Pumpkin Eater is available on Fishpond http://bit.ly/ZscgKT as a paperback and Bye Baby Bunting is a paperback too - available from CreateSpace (www.createspace.com). She lives in Auckland New Zealand mostly, but also she is in the UK southwest of London and at 'the lake' in northwestern Ontario Canada each year too.
Where to find Tannis Laidlaw online
Where to buy in print
Books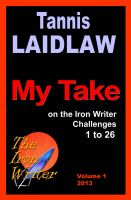 My Take: on the Iron Writer Challenges 1 - 26
Flash fiction? A complete short short story with beginning, middle and ending that leaves the reader satisfied? The Iron Writer Challenge is a weekly flash fiction contest where four writers incorporate four provided 'elements' into a 500 word story, written over just four days. Here are 26 short short stories using the elements from the first 26 weeks of Iron Writer Challenges.