Teddy Dee
Biography
Teddy Dee was born with a love of the ancient art of storytelling. While other kids dreamed of becoming firemen or astronauts, Teddy Dee fueled the dreams of his classmates with stories of heroes emerging from the inferno and tales of spacemen walking on strange alien worlds. At the age of 7, Mr. Dee had penned his first thriller that involved the perilous journey of he and his best friends as they descended into a labyrinth of wizards and monsters that existed under their elementary school.

Today, Teddy Dee is one of the first digital storytellers to embrace the electronic publishing medium. Teddy produces his books from concept to completion with stories and illustrations optimized for digital distribution. He is both author and illustrator of his titles, as well as the sound engineer for music and sound effects and the voice that reads his stories on the iPad/iPhone Book Applications, audiobooks and other digital mediums. From start to finish, Teddy Dee is behind every aspect of his productions, from story to layout, to sound effects and animation.

Teddy Dee has a passion for entertaining, inspiring imaginations, and sharing the many aspects of his craft with others who wish to produce and publish stories of their own. With a back ground in professional public speaking and presenting, Teddy Dee incorporates his brand of digital magic into his book readings and educational seminars.
Where to find Teddy Dee online
Books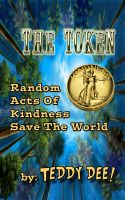 The Token: Random Acts Of Kindness Save The World
The story follows a magical token as it is passed from person to person within a village that has fallen on hard times. The token, given to a boy by a mysterious traveler on the road, releases a special magic when it is exchanged as one person performs a random act of kindness for another. Will this magic save the village, perhaps even the world?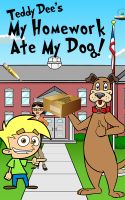 My Homework Ate My Dog!
Laugh out loud as you share in the tale of a young boy and his dog as they scheme to finish a science project at the last minute. A story book of the highest caliber that delivers important cautionary messages for today's youth, specifically internet safety, exercising judgement and the repercussions associated with procrastination. This is book is a must have for the home library!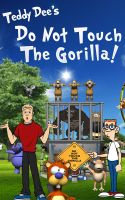 Do Not Touch The Gorilla!
Story time has never been this fun! A thrill ride that promises to delight over and over again! A story about a young man who falls victim to his curiosity and breaks the one and only rule: "Do Not Touch The Gorilla!" What follows is a hilarious, heart pounding sequence of events that brings readers and audiences to the edge of their seats until the hysterical surprise ending is reached!