Sue Comeau...
Biography
Sue Comeau hangs out in Halifax, Nova Scotia with her husband, kids, and sidekick Labrador retriever. A Certified Exercise Physiologist, she's working on her next project, a fitness-themed series for kids.

Kathy-Lynn Lee moved to Labrador City, where the ratio of guys to gals is distinctly in her favor! She continues to work in healthcare while being a social butterfly.

Camille Bonnell is a physician who lives in New Brunswick with her family.

The Becks continue to stay close friends… and to follow THE BECKY RULES.

Visit them at: www.facebook.com/TheBeckyRules
Where to find Sue Comeau... online
Books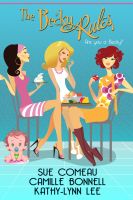 The Becky Rules
Are you a Becky? A Becky is the ultimate gal pal. A woman who strives to be her best, no matter what the challenges… and who kicks ass! Want to join the club? Read on! Come along on a year in the life of the three original Beckies, as they make up 'The Becky Rules' – the guidelines for being happy, fulfilled, and of course, fashionable.