RW Krpoun
Biography
Born and raised in the icy wastelands of North Dakota, RW Krpoun joined the US Army, serving two enlistments before being honorably discharged in Fort Hood, Texas. Delighted to discover a land where snow was a novelty, he settled in Texas and took up a career in law enforcement, serving twenty-five years to date and counting. His service includes a Sheriff's Office and two Municipal police agencies, as well as two enlistments in the Texas National Guard as a Criminal Investigator.

RW lives on lakeside acreage with his lovely and amazingly tolerant wife Ann, and a band of ill-mannered animals who are all highly photogenic. His hobbies include reading, history, various forms of shooting, collecting battle-ready examples of medieval weaponry, and learning to use such weapons.

With eight books published, his primary current project is the fifth book in the Phantom Badger series, the second book in the YGAT series, and an alternative history western. He is currently moving all his works to Amazon, in both E-book and paperback formats.
Smashwords Interview
Books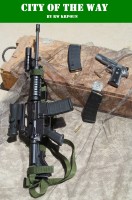 City of the Way
Staff Sergeant William Packer, US Army, is a dead man walking. The alien Celmar have invaded Earth, and things are not going well for Humanity. Sergeant Packer is recovering from wounds in a (relatively) safe billet in Austin Texas until a chance conversation with a draft-dodger sparks a chain of events that embroils Packer in a conspiracy that takes him far beyond his pay grade.