Thea Gregory
Biography
Born and raised in rural western Quebec, Thea Gregory moved to the big city at 17 to attend college. She has had an eclectic career ever since, and has studied computer networking and physics and worked in technical support, sales, and teaching. She presently lives in Montreal, Quebec. Thea enjoys zombies, cycling, reading, walking, cooking and dreaming up twisted scenarios for future projects.
Where to find Thea Gregory online
Books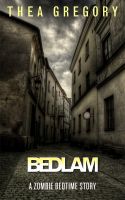 Bedlam (Zombie Bedtime Stories #4)
Corporal Samantha Henderson is a member of the Peacemakers—an organization devoted to putting down the riots that plague their nation's cities. When what starts out as routine guard duty at an elementary school quickly turns bizarre and bloody, Samantha finds that her life is turned upside down.
Smashwords book reviews by Thea Gregory
The Hunter on July 02, 2011

This book was very enjoyable, I found it held my attention, moved quickly but was never confusing and it was a very refreshing take on the superhero genre as a whole.