Todd Drashner
Biography
Todd A. Drashner was born and raised in the semi-wilds of Alaska. He first became interested in science fiction at age 9 when he picked up a copy of Clarke's Childhood's End in a bored moment and has been hooked ever since. Todd generally prefers "hard" science fiction that is still not afraid to think big. He encountered Drexler's book Engines of Creation in college, along with the ideas of trans and post-humanism and Vernor Vinge's Singularity concept. When he grows up he wants to be a Power.

Todd's current interests include reading, working out, music, and thinking about the future. Discovering the Orion's Arm project still counts as one of the happier moments in his life to date. He currently lives in the Tidewater region of Virginia where he works as an Instructional Designer for a major corporation.
Where to find Todd Drashner online
Books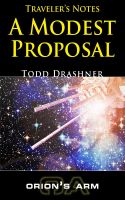 Traveler's Notes: A Modest Proposal
An interstellar wanderer is offered the chance to visit a place stranger and possibly more dangerous than any he has yet seen.