Tori Hartman
Biography
Tori Hartman is the author of Listen and Learn the Esoteric Arts: Twelve Step Tarot published by Jupiter Press, April 2000. Her longstanding knowledge and interest in spirituality is inherited from her late mother, Dorothy Hartman a professional astrologer. Ms. Hartman has studied tarot with Rachel Pollack, and astrology and spirituality for over fifteen years.

Her first book, Specialty Modeling was published by E.P.Dutton in 1988. Tori created a publicity campaign that took her to eight cities. She secured reviews in both Glamour and Woman magazine as well as appearing on television talk shows.

In April 1995, FABULOUS YOU! Unlock Your Perfect Personal Style, was published by Putnam/Berkley. Tori scheduled a 30-city publicity tour for this book. She appeared on dozens of talk shows, guested on radio shows, and secured newspaper articles in each of the cities she appeared in. Fabulous You! earned out its advance quickly and paid royalties.

In late 1995, her first YA mystery, Cara Cosgrow, Till Death Do Us Part was published by Royal Fireworks Press. It was chosen by the prestigious Kansas State Readers Circle as a suggested selection.

As a writer, Tori began her writing career for NBC news in New York. She later turned her talents to fiction when she worked as a writer on the soap operas "Another World" and "As the World Turns." In the soap world, as an actress, she originated the role of Dr. Bennett on "All My Children."

Ms. Hartman now lives in Los Angeles with her two whippets, Frank and Owen.
Where to find Tori Hartman online
Books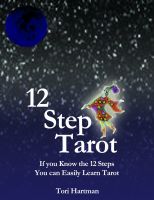 12 Step Tarot
If you comprehend the 12 steps and have a good handle on the addicts' journey, then you can learn Tarot in an hour. The numbers represent the steps, the Court Cards are the people you meet in recovery, and the Major Arcana represents the addicts' journey from beginning to end. The path from addiction to recovery will outline a clear understanding of Tarot and how it relates to the 12 steps.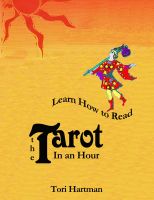 Learn How to Read the Tarot in an Hour
A different way to learn tarot through teaching them in numerical order. In the Major Arcana we use the story of Cinderella to teach the Fools journey. If you are looking for a quick, fast, and easy way to pick up the tarot then this is the perfect resource.