T. S. Presley
Biography
She is affectionately known as T.S. Presley. She rather enjoys being known as the girl next door. The Belizean inside of her sets off the kind of atmosphere that everyone likes to fantasize about, warm breeze and the unexpected adventure a person can find on a tropical island. Many of her short stories are basic on this tropical paradise in remote areas.

She had been writing for years just as a hobby to vent some frustrations. When she got to high school she let some of her peers read her writing and they all swore she would have been the best novelist back thing. She didn't take writing serious until she met Kate Donovan. Once that meeting took place she became active in writing community where she thought she would fit in. T. S. Presley has provided assistance with the judging of the Romance Golden Heart competition. She currently belongs to Writing.com and ERA (Erotic Readers and Writer's Association) as well numerous other online forums.

She works for the State of California as a Senior Legal Typist and draws her inspiration from her surroundings, nothing of the legal sorts though. She enjoys spending time with family as well as her dog King who is a Chihuahua (Short coat) mixed breed and believe he rules the world in an untypical fashion, and for the most part he does.
Books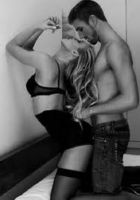 Her Alter Ego
(3.00)
Bishop gave Alexis a year to get her affairs in order before she had to return. She decided to take two and if she was really lucky she would be able to go undetected at least so she thought. Bischop is back to claim what is his...her Alter Ego, and she agrees wants him, but will Alexis' human side see it that way...
Smashwords book reviews by T. S. Presley