Ty Matthew Harrison
Biography
For reading my Bio please enjoy 75% off my novel: YX49M

Ty Matthew Harrison was born and raised in Alice Springs in the Northern Territory, Australia. Growing up in the outback he enjoyed the rugged outdoors, and of course, the heat. He enjoys playing music, exploring the bush, and travelling. His travels have taken him to South Africa, Zimbabwe, the U.S. as well as to East Timor.

Ty has placed equal 2nd in a local short story competition (published under a pen name) for a story that inspired part of his first novel The Gideon Project.

Ty now lives in Melbourne with his wife.
Books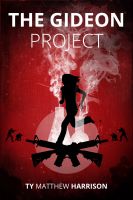 The Gideon Project
For more than 25 years in a covert government lab they tried to perfect the formula. Now, as 17 year old Crystal Walker searches for answers, she puts herself on a collision course with the US Military as well as in the sights of the world's most efficient mercenaries known as the Huntsmen.
Ty Matthew Harrison's tag cloud