Vanessa Eccles
Biography
Vanessa K. Eccles has had a writer's spirit since before she could write. She won her first short story contest and the age of six. She has spent a lifetime developing her skill and love for writing. She completed her first novel Georgia in 2009 and is currently working on her second novel Realm of Desire.


She is an English major at Troy University-Dothan. She lives in Alabama with her husband and their three dogs: Frank, Coco, and Honey. She has a deep love for literature, dogs, travel, and lots of coffee. She enjoys reading historical fiction, Christian fiction/non-fiction, and literary fiction. She writes southern inspired women's fiction, including historical and paranormal.
Where to find Vanessa Eccles online
Books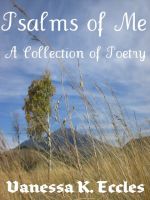 Psalms of Me
Psalms of Me is a collection of spiritual poetry inspired by a woman's everyday life.