Vella Munn
Biography
Writing is my career, my passion, the thing I'll do until I'm 6 feet under. I've published more than 50 books, everything from category romance to suspense to Native American historicals, to erotica as Vonna Harper.

One thing about being in the business as long as I have means the rights to some of those New York published books have reverted back to me.

So far I've placed three of my historicals and three of my Harlequin romances here at Smashwords. I've also thrown in a man-against-nature because I loved writing it so much.

Epublishing excites me. I'm delighted to have climbed onboard.
Where to find Vella Munn online
Books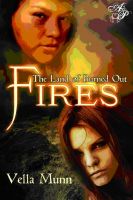 The Land of Burned Out Fires
Looking out at what remains of an ancient volcanic eruption, sixteen year old Kayla Stephens sees only dark lava, high desert, and birds. Then a girl wearing traditional Native American dress appears seemingly from the mist. Does Kayla have the courage to step into the past?