Andrea Ritter
Biography
Andrea Ritter was born in Germany when the Nazis entered into Poland and WWII began in Europe.
She is telling, in novel form, the story of her family's experiences during the last couple of years of the Nazi era; the bombings and survival at the homefront, and the combat battles at the Russian front until the Americans came to liberate the German people. She knows firsthand the ravages of war as a small child, which would influence her future life.
Ms. Ritter lives on the north shore of New Orleans, Louisiana. Sunflower of the First Reich is her first novel, available in print since 2001.
This work was published as an e-book in several formats by www.smashwords.com in October 2010.
Where to buy in print
Books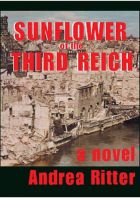 Sunflower of the Third Reich, A Novel
This is a WWII historical novel based on the experiences of a German family during the Nazi era. Sunflower of the Third Reich is set in war-torn Germany between 1943 and 1945. The novel presents the German perspective of the Second World War – a viewpoint to which American audiences have rarely been exposed. The author grew up in Nazi Germany during WWII.