Robert F. Abbott
Biography
Robert F. Abbott is a veteran writer and publisher who specializes in business communication. He is the author of A Manager's Guide to Newsletters: Communicating for Results (Word Engines Press, 2000) and has written numerous booklets and articles that appeared in his weekly online newsletter, Abbott's Communication Letter, between 2000 and 2006. Earlier, he operated The Newsletter Company, which wrote and published custom newsletters for companies in a number of different industries. In addition, he's been a radio news writer and announcer, a farmer, and a construction worker. He lives in Airdrie, Alberta, Canada and actively participates in the management and operations of non-profit organizations.
Books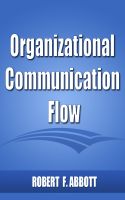 Organizational Communication Flow
In the next 10 minutes or so of reading, you will learn about the four main communication flows in organizations: upward, downward, lateral, and, the grapevine. Armed with the knowledge in this booklet, you will be better able to diagnose communication failures and successes. Furthermore, you'll know how to turn around those failures and reinforce those successes.
Robert F. Abbott's tag cloud