Clarence Acheson
Biography
Clarence Acheson is the pen name for a former divorce attorney who represented men and women in all facets of divorce litigation, including numerous contested custody cases. The suggestions Acheson provides in this book are the same ones he gave to his own clients. He didn't keep precise tallies, but won most of the contested cases he tried. Toward the end of his time in private practice, few attorneys would take a divorce to trial against him.
Where to find Clarence Acheson online
Books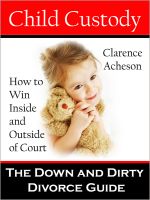 Child Custody: The Down and Dirty Divorce Guide
This is a survival and sanity guide for the most painful part of a contested divorce—child custody. From long before any divorce papers are filed through battles that can continue for years after the judge bangs the gavel, former divorce attorney Clarence Acheson talks about the realities of each step in a custody fight – legal and human – and what works and what doesn't with visitation.
Clarence Acheson's tag cloud