Anna O'Brien
Biography
Anna E. O'Brien is a practicing psychotherapist and licensed mental health counselor certified in Archetypal Pattern Analysis. Based in Western Massachusetts, she received her training from Antioch New England and the Assisi Institute in Brattleboro, Vermont.
Anna is an investigator in the areas of human nature and motivation. Key to her work is the capacity to listen to and read patterns in unconscious communications. She first identified the tendency of patterns to repeat during her early work with emotionally challenged children, and she remains in awe of the capacity of patterns to reveal underlying truth.
Anna lectures and teaches workshops about dynamic pattern reading, and is an available for private or organizational consultation. For more information and to contact Anna, please visit www.hawkwisdom.com.
Where to find Anna O'Brien online
Books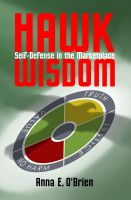 Hawk Wisdom
What if there was a way to judge the rightness of a deal based on information you receive in the very early stages of a transaction? Think of the time and money that could be saved. After reading Hawk Wisdom, you will understand how to assess bits of conversation that you hear while discussing a purchase and use this information to your advantage.