A.E. Saachi
Biography
A.E. Saachi is an author, academic, and activist who believes that smart is sexy, intelligence is erotic, and the mind is the ultimate erogenous zone. Saachi writes erotica that appeals to women and men in equal measure, and has been published multiple times in the respected and popular online erotica journal "Ruthie's Club."
Books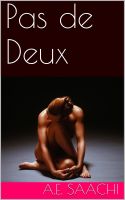 Pas de Deux
(5.00 from 1 review)
An older woman and a younger man. A student and a teacher. But which is which? Who's leading and who follows? Who's in control and who is vulnerable? And how much are they each willing to risk on a warm May evening?
A.E. Saachi's tag cloud