Alexander Edlund
Biography
I've had many jobs, some in remote parts of the world, some working for Fortune 100 companies, but writing has been a constant. I grew up traveling from town to town, starting in new schools every couple years. Books were my solace and my shield against culture shock, and new school shock. I read voraciously, reading out the local library collections of fantasy and science fiction. When I began to see my own stories, I felt compelled to write them down.
Smashwords Interview
Books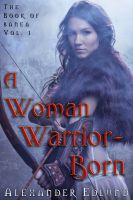 A Woman Warrior Born
(4.67 from 6 reviews)
Breea Banea is poised to become the youngest female scholar in a thousand years, but before her testing can begin, she finds herself hunted by a beast of elemental malice in the shape of a white wolf. When she learns that her entire life has been planned to enable her to survive this battle, she sets out to find the priest who called at her birth, "A Warrior is Born."
Alexander Edlund's tag cloud