Allison Grant
Biography
Allison Grant is a graduate of Columbia University (B.A., French and Romance Philology, 2009) and the Middlebury College French School (M.A., French, 2009). After studying abroad with Columbia University Programs in Paris during the 2007-2008 academic year, she returned to France in September 2009 to complete a Master 2 degree in Comparative Literature at the Université de Paris VII - Denis Diderot, where she studied Algerian libertine folktales. She is currently completing a second Master 2 in Ethnology and Social Anthropology at the Ecole des Hautes Etudes en Sciences Sociales studying the transmission of oral tradition in Algerian immigrant families.

She has worked twice as an English Assistant in four elementary schools in Paris (2007-2008) and Seine-Saint Denis (2009-2010), has worked as an English tutor, translator, and, most recently, began working as an administrative assistant and then as a tax preparer at a Paris-based accounting firm. She currently lives in Paris with her husband and their cat Artemis.
Where to find Allison Grant online
Books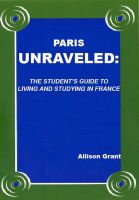 Paris Unraveled: The Student's Guide to Living and Studying in France
Paris Unraveled is the ultimate guide to living and studying in Paris or anywhere in France for students who want to study abroad. It includes a step-by-step guide to applying to French universities, getting your visa, validating your residency permit, tips on opening a bank account, getting an apartment, finding a job, writing your cover letter and cv/résumé in French, and more!