Deborah Scruggs-Cox
Biography
Deborah Scruggs-Cox is the daughter of the late Eugene L. Scruggs and Ora Scruggs of Niota, Tennessee. Her parents instilled in her a sense of passion for reading, writing and learning. They recognized her abilities and potential at an early age and helped her to cultivate it. She began her early education in the Niota Elementary School system, which is located in Niota, Tennessee and later at McMinn County High School. With a thirst for learning and a desire to go further, she graduated from Hiwassee College and, later, Big Bend Community College. Afterwards, she had a desire to "see the world" and "be all that she could be," so, she enlisted in the military and was given the opportunity to advance her studies, travel and to "see the world." After having served many years in the service, she decided to join the ranks of corporate America and broaden her horizons further still. She is currently pursuing her Graduate degree and is Director of Veterans Affairs for McMinn County, where she resides with her husband.
Where to find Deborah Scruggs-Cox online
Where to buy in print
Books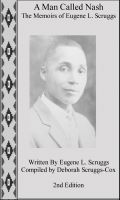 A Man Called Nash
Printed here for the first time, this heart-warming true story of Professor W.E. "Willie" Nash and his wife Willa, is told by Mr. Scruggs and his daughter Deborah Scruggs-Cox. The authors share other stories, political and historical references exhibiting the struggles faced by Professor Nash and other blacks in the South following Reconstruction and extending into the 20th century.